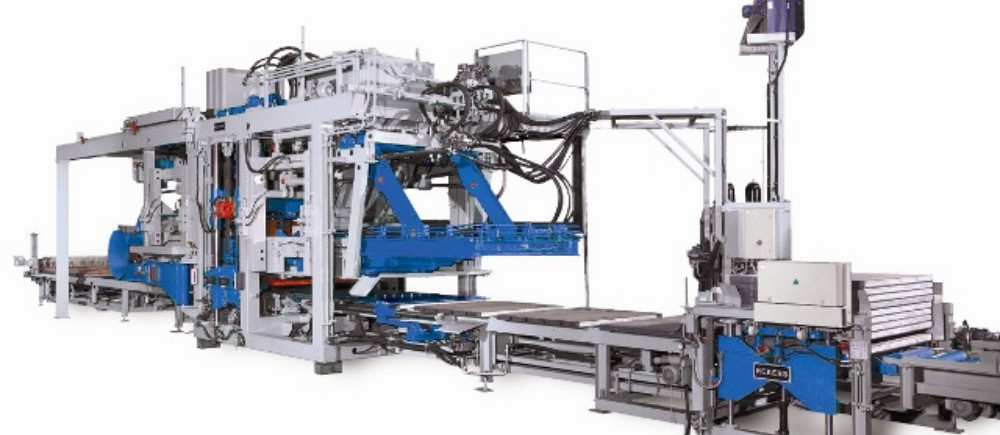 Rekers manufacture a large range of Precast Concrete manufacturing and handling plant including – Block Plants, Handling and Packaging, Pipe Handling – Measurement, Machining, Quality Control and Testing Systems, Flag (Slab) and Kerb Handling Systems, Concrete Distribution Systems (travelling buckets) and Clamps. Plus full turnkey plants with batch plants.
Rekers has a worldwide reputation for making the best handling and packing systems in the world with proven reliability combined with state of the art control systems. The company has grown over the years to its pre-eminent position by developing solutions to virtually any new demand in the market. Reker's experience and know-how is second to none.
In the UK and Eire, Rekers is well known as a supplier of block machines and handling systems.  Our UK plants incorporate state of the art cubing and packing technology with void packs, 'online ageing', stretch hood systems, shrink and sleeve wrap, strapping etc. Reker's paving block plants have very fast cycle time, very accurate height control and extreme reliability giving world-leading annual outputs.
Rekers continue to bring innovation and design excellence to the market with their use of robot technology, electronically driven cubers and handling systems, as well as a new design of robust block machine, focusing on ease of use and maintenance without compromising on output.
Rekers have a spare parts depot in the UK and have a dedicated team of technicians to give rapid, competent customer service.
Rekers are truly experts in Block Plant technology and Precast Concrete handling systems for all high volume products. Our objective is to work with our clients to specify and develop the best cost-effective solutions to all business and technical opportunities. Rekers has so many solutions already developed that a special demand from a client will probably already exist and have been proven – only the layout and details need to be modified. Custom solutions are Reker's speciality.
Click here to visit the Rekers website